One of the questions I am often asked is why we at Turkey Club America ask for you to give a regular donation to help feed those in need and do not even have a place on our website where you can give just a one-time donation.
To us the answer is simple. Hunger isn't just a one-time thing. Once we feed a hungry child at a mission or feeding center it might make their hunger go away for that day but it will surely come back again tomorrow. When we deliver a meal to a hungry senior in their home it may well be the only meal they get for that day and by the time that the delivery comes around tomorrow they will be hungry again.
We need to be able to commit to the hungry that we will be there to feed them and help to take away their hunger, not just today, but every day until they can once again stand on their own two feet and do not need our help and support any more.
To be able to make that kind of commitment to the millions who rely on the organizations supported by Turkey Club America for their daily food or to supplement their weekly shopping because they do not have enough to be able to buy sufficient food to feed the family, we need for you to make the regular commitment to help fund this vital ministry.
Throughout this website you will see that we ask you to give the cost of just one or two meals a month to feed hungry children, families, seniors and veterans in America. Yes, this is a different approach. It isn't just asking you to think about the hungry once a year at Thanksgiving or at Christmas, but to make a regular small commitment throughout the year to feed those who need it most.
Over the course of the year Turkey Club America supports organizations that feed over 6 million Americans. Hunger is with us every day of the week, week in and week out and so, rather than just asking you to make a single donation we ask you to commit to a small regular donation of the cost of just one or two meals a month to help those who are in need.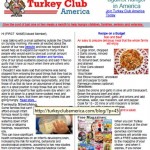 By means of our newsletter and website we will keep you up to date with what we are doing. We know that you trust us to spend your money wisely and maximize the amount of what you give that actually reaches those in need. We take that trust seriously and in return for your commitment to give on a regular basis we commit our lives to feeding those who are in need. It is the ministry that God has given us here at Turkey Club America and together with you we seek to make a difference every week of the year.
Our special programs "Formula for Growth" and "Ten Thousand Turkeys" rely on the regular gifts that you give to help those that are most vulnerable in our society. Children, families, seniors and veterans are our focus and we hope that you will join us helping to feed those that need it most.
If you would like to give a one-off donation, you can send it to us and we will gladly receive it with thanks in our hearts and apply it to the work of Turkey Club America, but here on our website we do take a different approach and ask you to regularly give the cost of just one or two meals a month to help feed hungry children, families, seniors and veterans here in America.