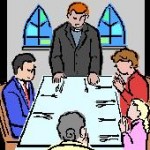 I was talking with a small gathering outside the Church on Sunday morning. We were all excited about the launch of our new website and how we hoped that it would help us to expand our reach to many more people who would want to give just a small amount each month to feed hungry children and families.
One of our group suddenly piped up and said "I feel so guilty that I have so much when there are others who have so little".
I thought it was really sad that someone was being stopped from enjoying the good things that they had by feeling guilty about what others didn't have. I certainly think that with privilege comes responsibility, and that those of us that do have an abundance of good things are in a great position to help those that are not, but I cannot bring myself to feel guilty every day when I am able to sit down to a great home-cooked meal and enjoy what I have, that there are many others that are going hungry.
I think that God intended us to enjoy what we have with thankfulness in our hearts and appreciation for the situation in which we find ourselves and then, from that position of strength, reach out to help those that are in need. If we start feeling guilty about every need that we see or every person who is less well off than we are, if we start to feel guilty whenever we see a homeless veteran beside the road with a sign or a young mother with a hungry child then our whole lives will be wracked with guilt and we will never enjoy anything at all.
Being so closely involved in this ministry of feeding those in need it is very easy to become emotional over some of the heartache situations that we see every day and sometimes we have to just draw back a little so that we don't become overwhelmed with the suffering of others.
Yes, we give what we feel is the right amount to help feed those in need, we work with so many others to alleviate some of the suffering that we see all around us, but once that is done we enjoy the bounty of what God has given us and the fruits of our labor  and, without feeling guilty we are thankful for everything that we have.
Rev Dr Stephen